You'd think that a party planning guide is the last thing we need right now, but you'd be wrong. Officially (and intentionally redundantly) titled The Office: The Official Party Planning Guide To Planning Parties, this book will do three very important things:
1. Make you really not miss being in your office while you're working from home.
2. Provide you with a good laugh as you remember your favorite and most awkward episodes of The Office.
3. Give you some actual good ideas to amuse your family, roommates, or whomever you happen to be living with right now.
I'm a huge fan of The Office, even though I do skip the post-Michael seasons and jump straight to the last three episodes on a full rewatch. My kids were obsessed with the show when we first went into lockdown, and the argument was never about what to watch, but about whose Netflix name we should watch it on, because we were all in different stages of our cyclical rewatches. (One day I watched my daughter flow right from the series finale back to the season 1 premiere with barely a minute between them.)
The Party Planning Guide is an in-universe book that brings back all the most hilariously uncomfortable party moments in the show, but is also packed with real recipes and crafts. The tone is sincere but funny: There are detailed instructions on how to make an "IT IS YOUR BIRTHDAY" sign, play Flonkerton, or make a Belsnickel costume on beautiful designed pages (complete with memory-inducing photos from the show) next to some great ideas for IRL food and drink.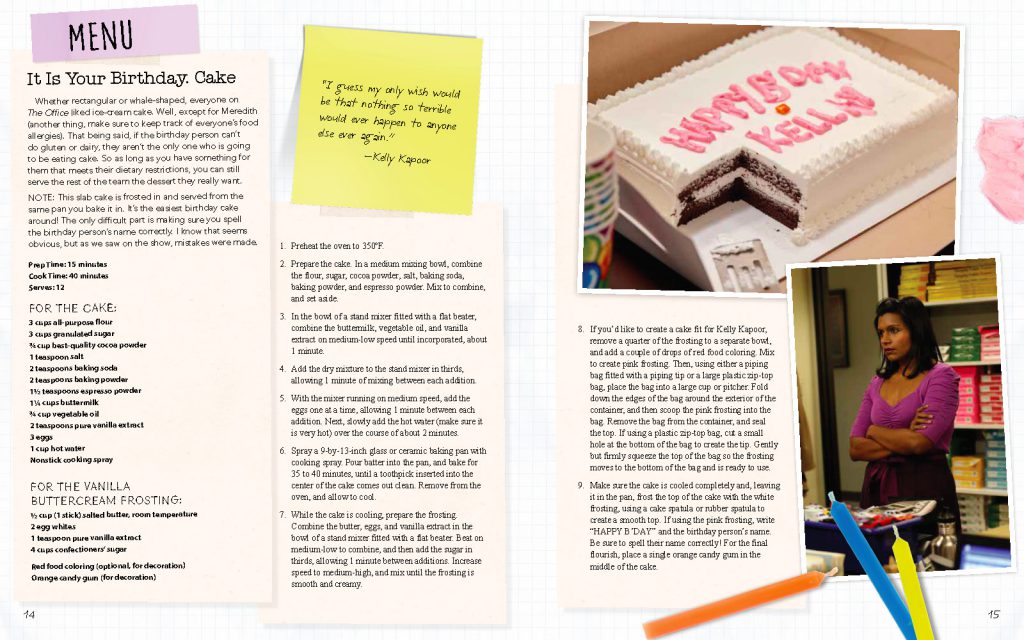 There are recipes for tater tots, birthday cake, One-of-Anything Christmas Punch, brownies, Kevin's famous chili, and instructions on how to set up a hot dog bar, all of which look totally legit (and kind of fun).
The book arrived at my house about a week ago, and my 13-year-old snatched it up immediately. This is one of the few books you can actually share with the rest of your family… If she were a little younger, we'd probably be snuggled up on the couch together flipping through the pages and laughing our asses off. The layout will keep you in the Dunder Mifflin moment, thanks to photos from the show interspersed with handwritten notes and tips on lined paper and Post-Its with character quotes. There's even a link in the intro to download templates for all the crafts. Make your own Office Olympics medal!
Office fans will want to pick this one up and reminisce about the teapot Jim gave Pam during Secret Santa, Andy's garden party, the Finer Things Club, and Casino Night. If it inspires you to come up with your own Office Olympics in your living room, so much the better.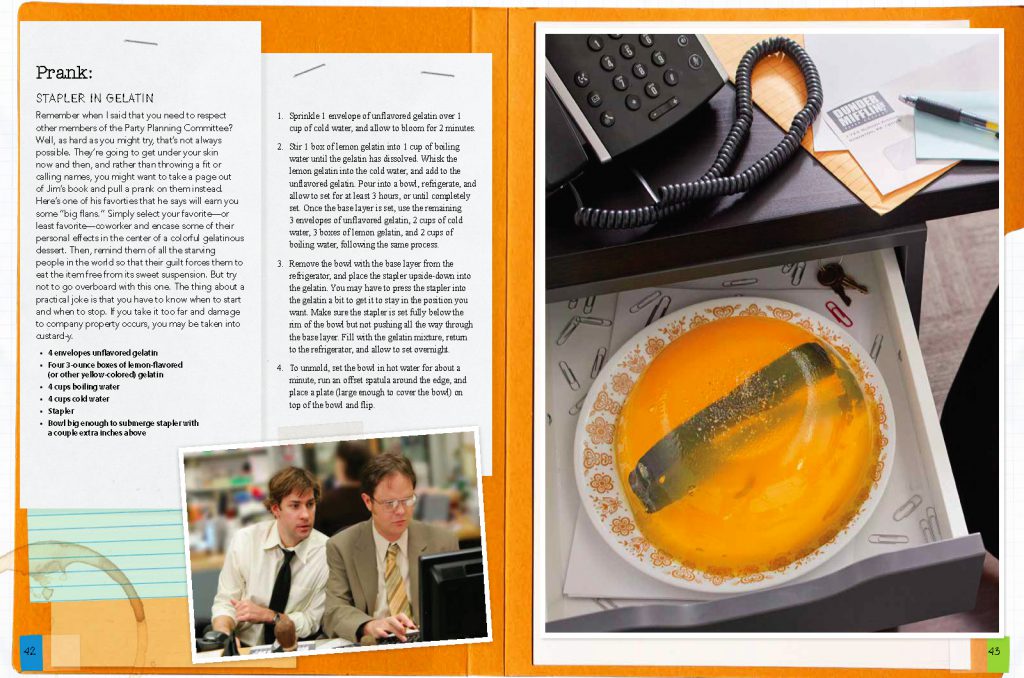 Since we all love the show so much, here are two more offer Office-related suggestions for you.
Angela Kinsey (who played Angela Martin) and Jenna Fischer (Pam Beasly) are best friends in real life (thanks to their time together on the show) and co-host a weekly podcast where they make their way through each episode, in order. It's super girly, which ranges from adorable to slightly annoying, but they have a lot of great memories and they are constantly bringing in other cast members as well as writers, directors, and guest stars (like Andy Daly, the guy who played the Ben Franklin impersonator) to describe their experiences making those shows. They give inside info on your favorite scenes from people who were right there, along with the perspective they've gotten from being able to look back on it so many years later.
It's a lot of fun, and so newsy that various websites are writing articles based on the tidbits the Ladies reveal every week. But newsy bits aside, the casual, conversational style means that you start to feel like you really know Angela and Jenna, who make fun of each other a little and occasionally have to take a break because something's in the oven. It's like you're hanging out with a couple of friends who happened to be on one of your favorite shows.
Brian Baumgartner (who played Kevin Malone) hosts this rich, detailed, limited series about how the show got made that includes interviews with absolutely everyone who was a part of it, done as an extremely well-produced audio documentary. I listened to it as episodes were still landing on Spotify weekly and found myself disappointed every time one ended. I'd be hungering for the next one all week! All 12 episodes are up now.
The doc is truly fascinating… and it'll remind you that nobody thought the show was going to even get a second season, let alone become the most-watched streaming show in the country. It's also just a great TV success story, packed with some of the most creative, talented people in the business. Having Baumgartner host allows for a deeper dive, since he's not a gawking fan (as I would be), but an active participant. As someone who has been reading about how specific TV shows got made since I was a kid, I was riveted from start to finish.
Have fun, Dunder Mifflin fans! And if your kids are fans, pick them up some Dunder Mifflin loot… my 17-year-old wears his T-shirt proudly and likes his coffee mug so much that he's willing to hand-wash it.