Every year, thousands of us eagerly await the holiday season, and not just for the spirit of Christmas and all of the good cheer. Nope, we are eager for the feel-good romance movies that the Hallmark Channel features daily. The plots are often the same: A meet-cute between two people who don't have any interest in one another but who are going to realize they are perfect for each other to reach the happy ending, all the while surrounded by Christmas decorations, snow-covered and charming streets, and cozy sweaters and coats.
Did you know that there are actually small towns that get so gussied up for the Christmas season that you could feel as if you were on a Hallmark Movie Channel Set? Visit one of these towns this season and, who knows? Maybe you'll bump into a stranger in a coffee shop and fall in love by the end of your trip!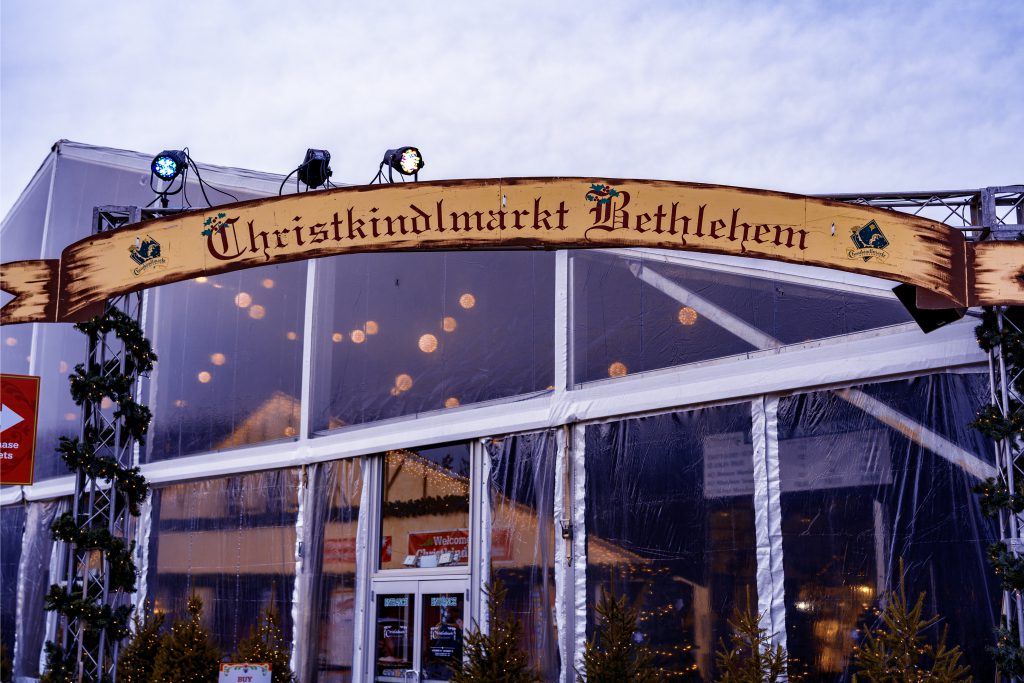 Bethlehem, Pennsylvania
As it is called, rightly because of the town's name, Christmas City welcomes thousands during the holiday season. Established by Moravians in 1741, the town recreates German Christmas markets, provides home tours of its original homes, and gives horse-driven carriage rides around its quaint historic district, lined with mom and pop restaurants and boutiques. Even more charming is atop the highest hill in this Lehigh Valley town is the Star of Bethlehem, which stays lit 365 days a year.
Where to Stay: Hotel Bethlehem
Located in the heart of all the fun, this old-school hotel's lobby and restaurants get decorated from floor to ceiling in décor and Christmas trees.
Stockbridge, Massachusetts
Norman Rockwell's paintings were inspired by Stockbridge and the Berkshires area of Western Pennsylvania. To honor its beloved and renowned artist, it transforms Main Street into Rockwell's "Stockbridge Main Street at Christmas" during its annual festival. Not only are the Christmas lights strewn across every building and home, but visitors can also tour historic properties decorated for the holidays. They will see old-fashion cars lining the streets.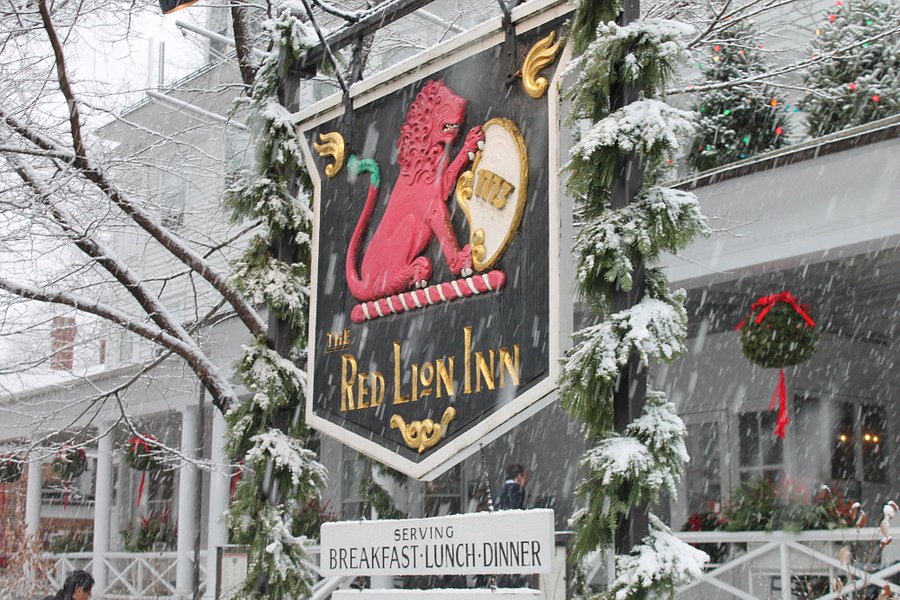 Where to Stay: The Red Lion Hill
With 82 guestrooms filled with antiques, the Red Lion has been a staple of Stockbridge since 1773. Sit on the front porch wrapped in a wool blanket and sip hot chocolate for the whole experience.
Woodstock, Vermont
The original Christmas love story, White Christmas, took place in Vermont's rural and snow-covered landscape. Although the setting of the Holiday Inn in Pine Tree is fictional, you'll find Woodstock a suitable backdrop when it celebrates the season with its Wassail Weekend. Horse-drawn carriage rides will take you through the postcard-perfect town to the town's Victorian-inspired Christmastime Wassail Feast and events.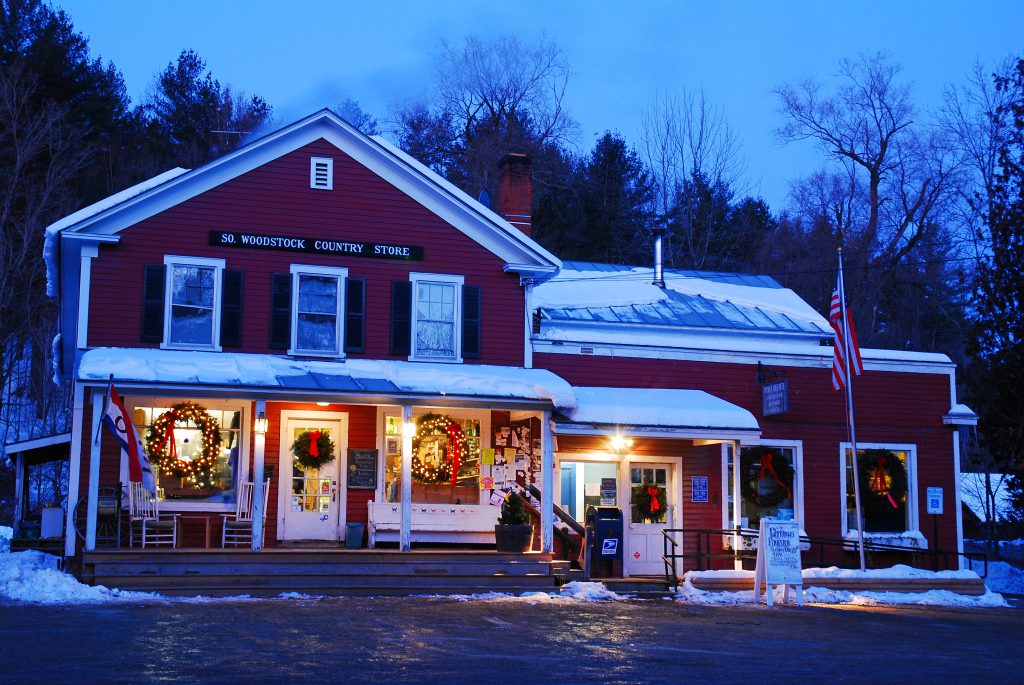 Where to Stay: The Woodstock Inn and Resort
Self-named "Vermont's Most Beautiful Address," the inn gets heavily decorated for Christmas, reveling in its 200+ history. It even hosts its own Christmas dinner.
Leavenworth, Washington
The Washington State town of Leavenworth transforms every December into the Village of Lights: Christmastown, so you know you'll find those romantic twinkling lights to add the sparkle to your getaway. The town's fun includes strolling carolers, chestnuts roasting on open fires, holiday characters, Christmas trees, and other festive fun. As a Bavarian-inspired village, you can also celebrate the German Krampus and the Christkindlmarkt to feel as if you've left the country without a passport.
Where to Stay: Icicle Village Resort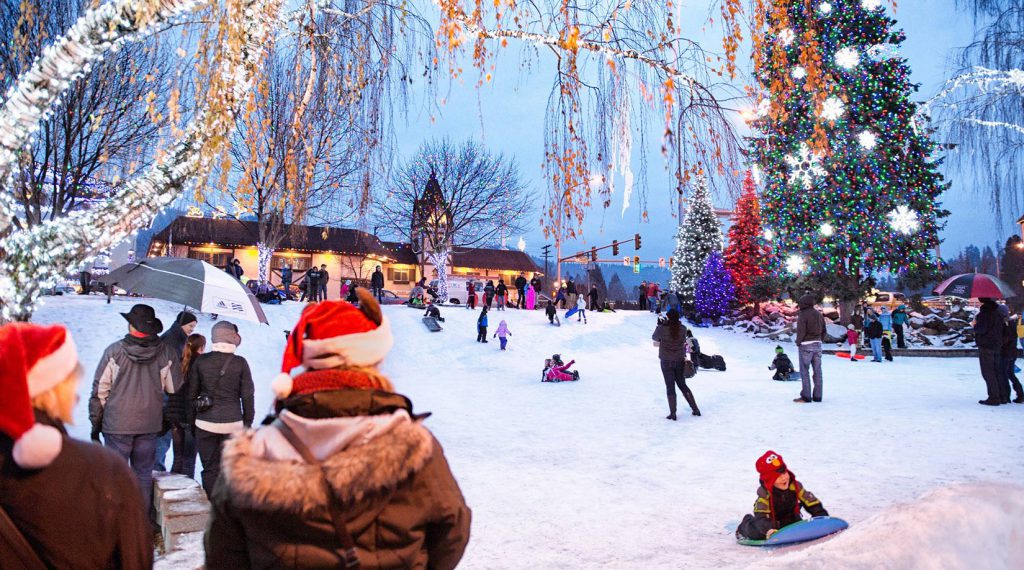 Designed to look like a Bavarian mountain chalet, the Icicle Village guestrooms will keep you warm with in-room stone fireplaces to cozy up to after your day in the crisp winter air.
McAdenville, North Carolina
Although this small North Carolina town outside of Charlotte may not have snow to add to your romantic backdrop, it transforms into Christmas Town USA every December. You can walk along a mile-long street adorned with millions of holiday lights and lighted displays. Since 1949, the town has hosted a Yule Log Christmas parade culminating in a town festival for more Christmas spirit fun.
Where to Stay: The Villa at Waters Edge
Most of the properties near McAdenville are budget-friendly chains, but if you'd like something a little more romantic, this villa will have you feeling like one of the movie stars in your favorite Christmas film.
Newport, Rhode Island
The seaside resort town of Newport takes on a movie-like ambiance when you stroll amongst the Newport Mansions. These grand homes of yesteryear, owned by the likes of Vanderbilts and the Astors, get decorated for the holidays, and you can walk through their gilded halls to envision the glamourous life.
Where to Stay: Hotel Viking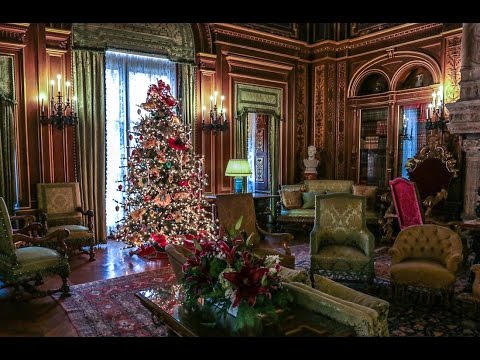 Within walking distance to the mansions and the waterfront, which is filled with shops and restaurants along cobblestoned streets, stay at the 95-year-old Hotel Viking.
Newport Beach, California
Not to be outdone by its similarly named East Coast town, Orange County, California's Newport Beach uses its oceanfront setting to its advantage. Visit and see sailboats, yachts, canoes, and kayaks bedecked for Christmas in the annual Christmas Boat Parade throughout its canals. The parade has been the Christmas draw for more than 100 years, so the entire city is covered in thousands of lights throughout the month.
Where to Stay: Balboa Bay Resort
If you want to watch the boat parade from the comfort of your room, the Balboa Bay Resort is the only hotel with waterfront views. Pop some champagne and enjoy the view.
Branson, Missouri
The Ozark Mountains is a popular destination for summer and fall visits, but many first-timers have no idea just how gorgeous the area becomes at Christmastime. The old-time activities continue with festive Christmas shows, ice skating, Polar Express train rides, and a drive-thru Christmas light tour. It's earned Branson the name "Christmas Tree City."
Where to Stay: The Keeter Center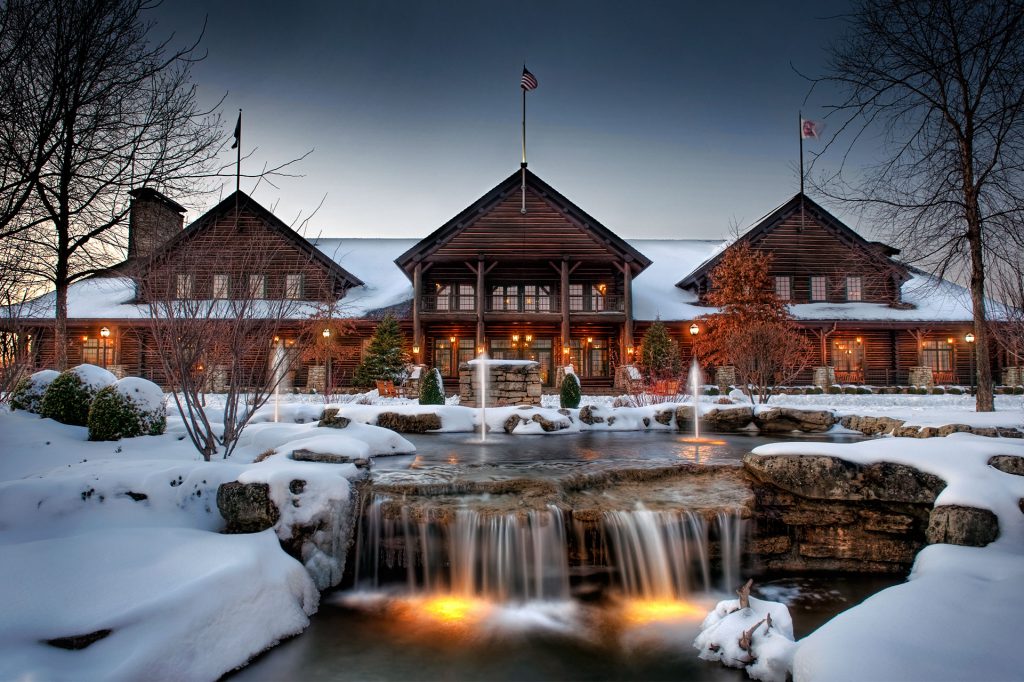 Stay in a log cabin lodge with just 15 hotel suites to enjoy a quiet and romantic getaway within minutes of the Christmas fun.
Franklin, Tennessee
Celebrate a Dickens of a Christmas in the Nashville suburb of Franklin, Tennessee. Visitors will encounter Charles Dickens' characters like Ebenezer Scrooge, Tiny Tim, and even Oliver Twist in this Victorian-themed festival filled with Christmas lights, music, and more. The town is covered in decorations for an entire month and offers shopping ops and food trucks that make it easy to bump into a cute stranger.
Where to Stay: The Harpeth Franklin Downtown
This Curio Collection by Hilton will provide a boutique experience with a touch of luxury. Located right in the heart of downtown, you'll be within walking distance of all the holiday fun.
Nantucket, Massachusetts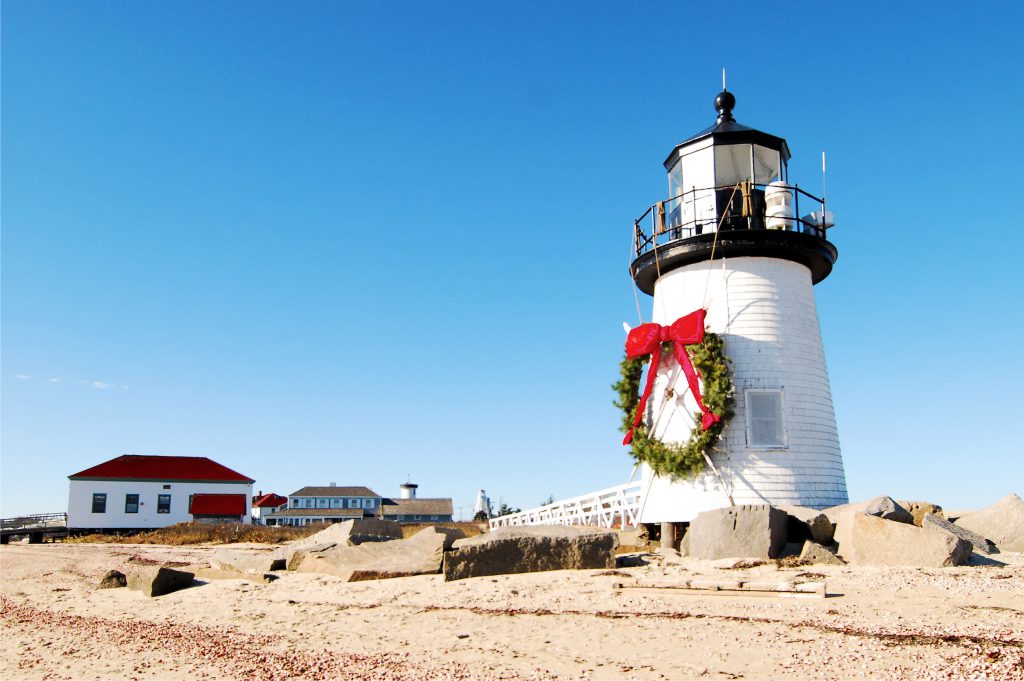 Before the charming island off the coast of Cape Cod shuts down to tourists for the winter, this mainly summer destination becomes a winter wonderland filled with lights, a Festival of Christmas Tree, a Christmas Stroll, and more. You'll see ice carvings, can attend an ugly sweater competition, see strolling carolers, and await Santa's arrival (by boat, of course).
Where to Stay: White Elephant
Not named for the present exchange game, the White Elephant provides both resort rooms, and cottage stays for your accommodation choices. Its restaurant, Brant Point Grill, will provide prix fixe dinners before the Christmas Stroll and can even decorate your room by request.
Frankenmuth, Michigan
Another town designed to look like a Bavarian village celebrates the holidays with a lotta sparkle. There's magic to be found in Michigan, from light shows to a musical tree show starring a 40-foot Christmas tree. Frankenmuth happens to be home to the largest Christmas store in the world: Bronner's. It alone features 300 decorated trees and 50,000 trims and gifts and is a sight to behold even if you don't feel like shopping.
Where to Stay: Bavarian Inn Lodge
The hotels can be a little kitschy but fun, including the 360-room German-themed Bavarian Inn, located on the Cass River near a charming covered bridge.