No one has any immunity to Covid-19 because it is a novel virus, but with the medical system overworked and everything else going on, staying as healthy as possible is super important. Maintaining a healthy diet, high in plant-based foods, is one of the most important things we can do to maintain a strong immune system.
The immune system is not a single entity that exists in the body, but a system of tissues, cells and organs that work together to fight off threats to our health. The skin, tonsils, spleen, lymph nodes, digestive system, and bone marrow all play a part in the immune system.
Bone marrow produces white blood cells, which play an especially important role in our immune systems by creating antibodies that identify and destroy harmful organisms.
The food we eat plays a crucial role in the development of white blood cells. People who eat a diet high in fruits, vegetables, whole grains, nuts and seeds tend to have higher functioning white blood cells than people who eat more processed or high-fat foods because they naturally consume more vitamins and minerals, which aid in cell production, and antioxidants that reduce cellular inflammation.
A diet high in plant-based foods is naturally high in fiber, which promotes the growth of beneficial bacteria in the digestive tract. Recent research is revealing that the gut microbiome plays a significant role in regulating immune response to illness.
A high fiber diet keeps us fuller on fewer calories, aiding in weight loss. Maintaining a healthy weight lowers the risk of immune threatening diseases like diabetes and heart disease.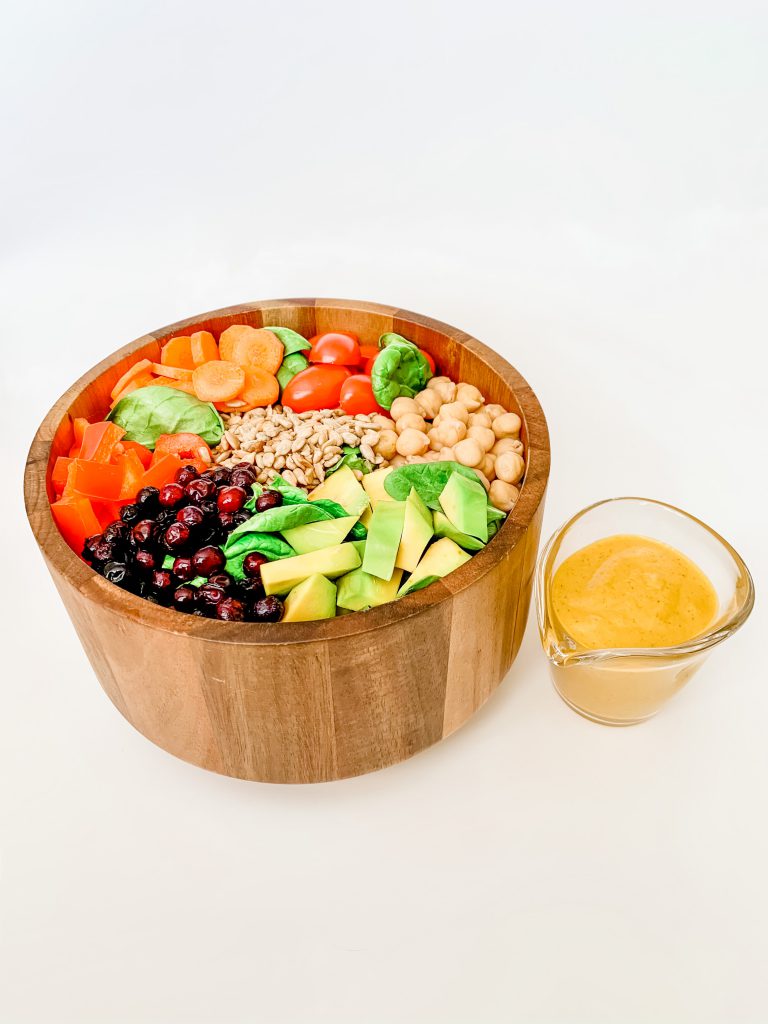 Foods high in Vitamins E, C, and D, Beta Carotene, and Zinc are especially good immunity boosters. Some of the highest sources include:
Broccoli, spinach, and other dark green, leafy vegetables
Red peppers
Sweet potatoes and carrots
Citrus fruits, papaya, kiwi, elderberries and acai berries
Garlic, ginger and turmeric
Mushrooms
Almonds, sunflower seeds, pumpkin seeds, and sesame seeds
Beans, lentils and chickpeas
Vitamin D fortified cereals and plant milks
In addition to eating a diet high in plant foods and maintaining a healthy weight, exercising, reducing stress, getting enough sleep, being a light or non-drinker, and not smoking are recommended for building a strong immune system.
Here's a personal recipe packed full of healthy ingredients to help you feel good:
Immune Booster Salad with Turmeric Ginger Dressing
Start with a large bowl, and add:
2 packed cups (or 2 big handfuls) fresh spinach
½ cup chopped red pepper
½ cup diced tomatoes
½ cup sliced or grated carrot
½ avocado, diced
½ cup chickpeas
½ cup berries, orange sections, or diced papaya or kiwi
¼ cup slivered almonds, pumpkin or sunflower seeds
Turmeric Ginger Dressing
Add the following to a blender and blend at high speed until smooth. Makes: 1 cup, refrigerate for one week or freeze in an ice cube tray for future use.
¼ cup tahini*
1 Tablespoon minced ginger, or 1-inch fresh ginger, peeled
½ cup oat, almond, soy or other plant milk
1 carrot, peeled and diced
3 Tablespoons lemon juice
2 teaspoons maple syrup or agave syrup
2 teaspoons turmeric
½ teaspoon minced garlic or 1 clove or ¼ teaspoon powdered
½ teaspoon salt
¼ teaspoon ground pepper
*Tahini is puréed sesame seeds, which are high in Vitamin E and zinc. It can be found in the international foods or condiments section of most grocery stores.