As I walked into my fitness class, I heard to millennials talking. "Dude, did you see that orange minivan in the parking lot? That either has to be owned by the coolest mom ever, or a total stoner."
Well that was an interesting set of choices. I wouldn't have considered myself either, but I happily leaned over and said, "I guess that makes me the coolest mom ever."
Immediately, I got asked the usual questions. "Where did you get that? How did it happen?!?"
How it Happened
It's a question I got a lot and goes back to when my husband and I had our third child. I announced it was time to buy a minivan, and he announced that was the end of life as we know it, no way, no how. But he wasn't the one that was going to have to be crawling around strapping in three kids under the age of five, along with groceries and friends and sports equipment and dance bags and everything else that goes with a family of five during the next decade or so.
Add to that the entertainment system, the headphones, the automatic doors, the seats that keep the siblings appropriately separated, this particular piece of machinery is a masterful brilliant design to make everything in a parent's life easier.
My husband said it showed we were a stereotypical suburban family. I said it showed we were a couple of bad asses who created three human beings and would do whatever it took to make their lives happy and easy. I won.
Loud and Proud
Flash forward a couple of years and my husband was assigned to work in Germany. The government moved the family and our minivan to Stuttgart for two years. In the moving process, the van's paint job was scraped up and it started to rust, meaning we had to get it repainted. I tried to engage my husband in what color we should choose, but his general response was "it's just a minivan, it doesn't matter."
My six-year-old son's favorite color at the time was orange, and one of our favorite shows to watch together was MTV's Pimp My Ride (go ahead and judge). He immediately said, "Mommy, you're always telling dad he should be loud about the minivan, so we should paint it crazy." I was immediately in. We went to the shop and picked the boldest, brightest orange we could find. Even the shop owner tried to talk us out of it, but we insisted.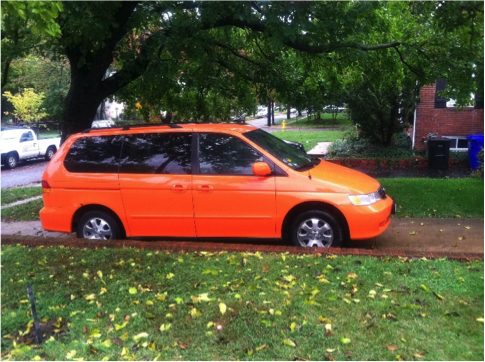 The Great Pumpkin
When the car was finished it was so bright my horrified husband was initially embarrassed to drive it. But the response was amazing. Driving it on and off the U.S, military base got much easier because all of the guards knew exactly who we were. People stopped me everywhere: gas stations, parking lots, sometimes even while stopped at lights at intersections to ask me where we got this van. Suddenly instead of road rage, people everywhere were super friendly and curious. I even got pulled over by a police officer once who apologized and said he just really wanted to know where we got a minivan this color.
C-list Celebrities in the Suburbs
When we were shipped back to Virginia by the government, the notoriety of the van actually followed us. My first week back in Ashburn (an area with a lot of military folks) a guy ran up to me in the Giant parking lot and asked, "Did you just move here from Stuttgart?" When I told him yes, wondering if we had met, he explained "I knew it! My kids and I use to play spot the orange van on base." I was literally stunned, but we also made immediate new friends.
Many years later after more than 250,000 miles in what we came to dub the Great Pumpkin, we had to say goodbye to it for another overseas move. This time, my husband easily agreed to by a new minivan, but we haven't decided what color we should eventually paint it. Back in Virginia I still occasionally meet people who identify me as "the crazy van lady". But I know I'm not the only one, so my advice to my fellow crazy van ladies out there: pimp your rides and be loud and proud about your minivans, because it means you are a bad ass who created little humans and will do whatever it takes to keep them happy.