Grand Cayman, the largest of the three islands that comprise the Cayman Islands, is a popular port for Caribbean cruise liners. Tourists shop for duty-free jewelry, cigars, rum cakes, and branded souvenirs in downtown Georgetown, or book one of the many excursions offered, including the Turtle Farm, Crystal Caves, or Stingray City, the famous sandbar where you stand in waist-deep water to pet wild stingrays.
The self-governed British territory located south of Cuba, between Jamaica and Mexico's Yucatán Peninsula, welcomed 1.8 million cruise ship passengers last year. But if you skip the cruise and fly down for a longer visit, the Cayman Islands have much to offer beyond the tourist traps.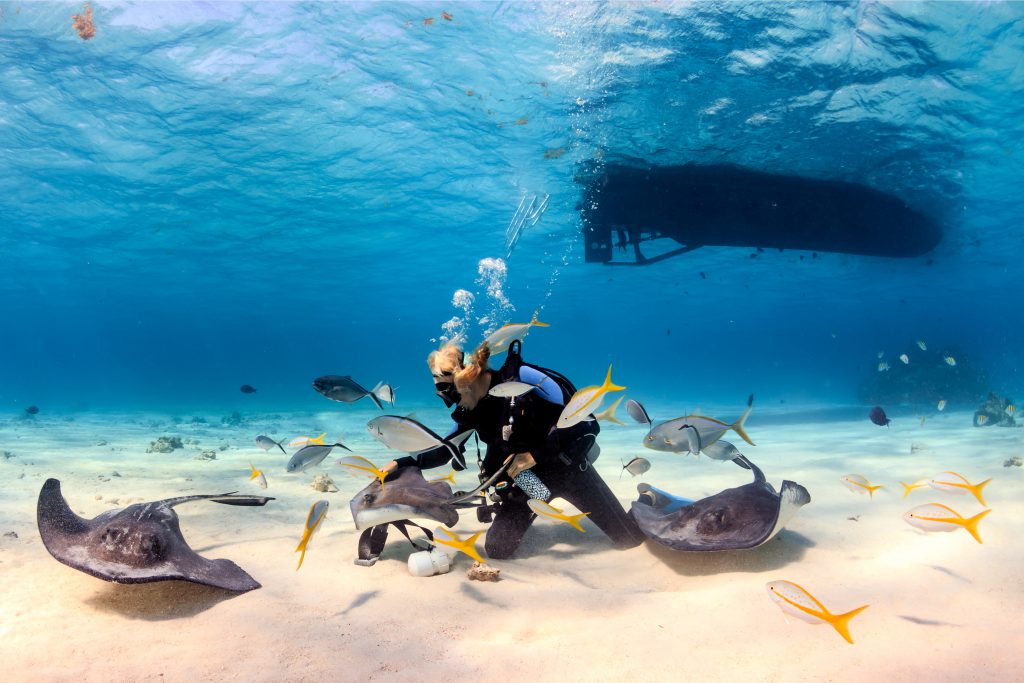 The Cayman Islands are known as one of the top scuba diving destinations in the world. There are 240 marked dive spots around Grand Cayman and another 125 between the two smaller islands of Cayman Brac and Little Cayman. The three islands are the exposed tips of an underwater mountain with steep sides dropping to depths of 3,000 feet just a few hundred yards from shore, offering divers wall sites teeming with a vast array of marine life.
Not a diver? No problem! Some of the best coral reefs are a short swim from shore, or you can book one of the many snorkeling excursions offered daily.
Grand Cayman is a little over 75 square miles and is home to about 52,000 people. The island is flat and nondescript in the interior. The beauty lies in the aquamarine water, white-sand beaches, and karst shoreline, or ironshore, as locals call the jagged black fossilized coral reef that makes up parts of the shoreline.
Besides diving and snorkeling, outdoor activities include sailing and fishing charters, horseback riding, exploring caverns and botanical gardens, bioluminescent tours, and submarine rides.

Seven Mile Beach may not really be seven miles long (just under,) but it is world-famous for its soft white sand and crystalline water. If you rent a car and drive around the island, you will find smaller, but equally gorgeous, beaches like Starfish Point, named for the starfish dotting the sand in shallow waters; Spotts Beach, where you can swim with wild sea turtles; or Rum Point, where you can snag a hammock and order rum runners from the outdoor bar.
Grand Cayman offers fine dining and nightlife you won't find on most of the smaller islands in the Caribbean. You will never have a problem finding a waterfront restaurant with alfresco seating. Freshly caught seafood and locally sourced meats and vegetables are the norm, and shorts or sundresses are always the perfect attire. Reservations are recommended at the most popular restaurants, but there are plenty of places you can drop by in your swimsuit and flip flops.
If you like to shop, you won't be disappointed. While downtown Georgetown caters to the cruise ship clientele, Camana Bay, a waterfront town center a short walk from Seven Mile Beach, offers high-end shops, restaurants, and a movie theater.
For pampering, try the spas at the Kimpton Seafire Resort, the Ritz Carlton, or the Westin.
Cayman Brac and Little Cayman, 38 and 28 square miles respectively, are just a puddle-jumper flight from the main island. Both islands cater to dive groups but are still worth visiting if you don't dive. Cayman Brac features high shoreline vistas with caves to explore, while Little Cayman's secret is Point of Sand, a beach that will make you feel as if you are on a deserted island.
Many airlines service the Cayman Islands, including Delta, Jet Blue, Southwest, and American. Cayman Airways flies direct from Denver, JFK, Miami, and Tampa, and will offer you free rum punch on the way down.
The weather is always warm, with highs staying in the mid-80s, and evenings cooling to the mid-70s. January and February get about ten degrees cooler at night. Hotel rates are lowest from March through June, and the dry season is November through April. No matter the time of year, it's always a good time to visit the Cayman Islands!