Original Recipe: Pumpkin Cheesecake with Chai Buttercream
It's pumpkin everything season, and if you're excited about that, this is a must-try recipe.
This pumpkin cheesecake has become a Thanksgiving dessert tradition with my family, which means I've had a few years to perfect it. It's always a huge hit, and if there are leftovers, they don't last more than a day.
The three tablespoons of flour in the cheesecake batter may seem odd, but I've done a lot of research and a fair amount of experimenting on the flour front and learned that it makes the texture just a little more cakey as opposed to creamy. It's a matter of preference, but I definitely am a fan.
My mother once told me, "Cheesecakes are forgiving," and she was right: One year, our oven broke while I was in mid-bake, so I called a neighbor and ran the partially cooked cheesecake over to her house. It still turned out great! This recipe may seem complicated because of all the steps, but it's actually quite easy—the only time I've ever had to scrap a cheesecake was when I forgot to put the sugar in. Oops.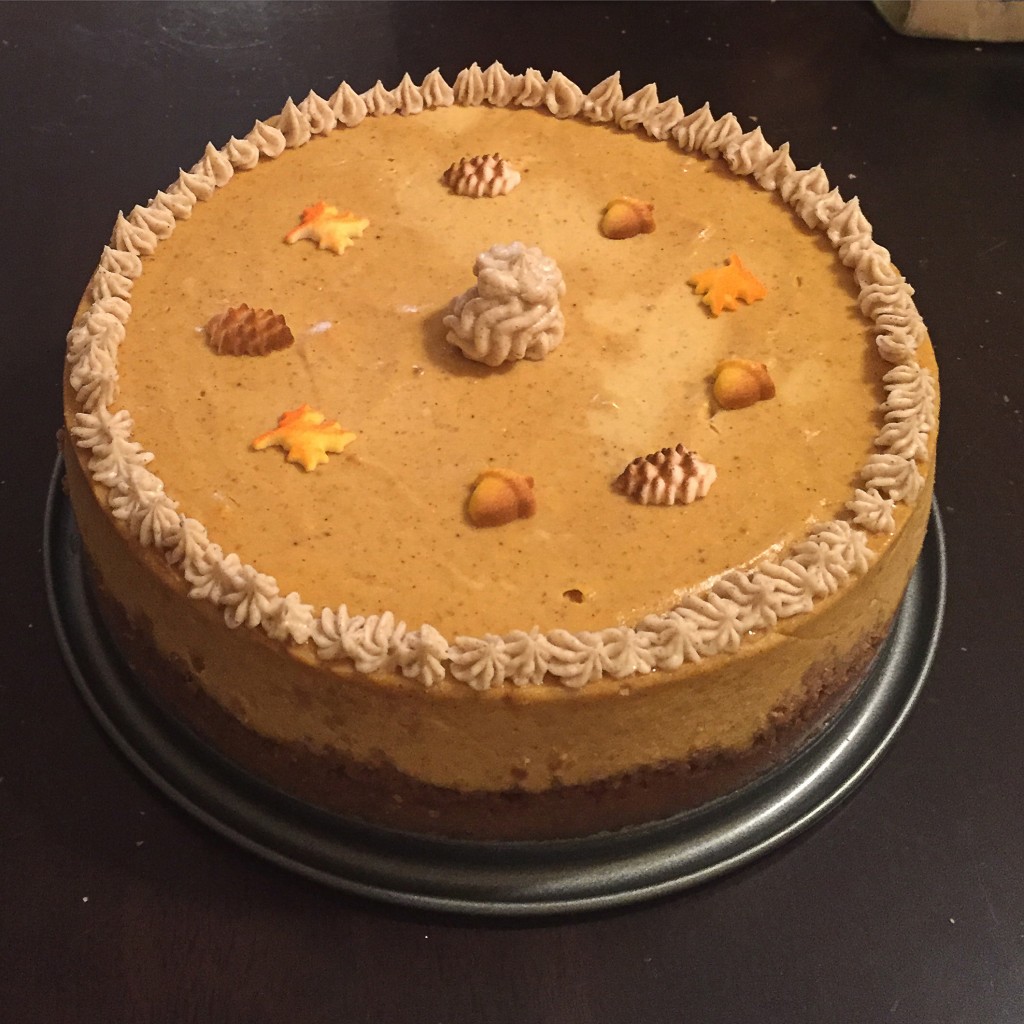 Ingredients:
crust
1 3/4 cups graham cracker crumbs
3 tablespoons light brown sugar
1 teaspoon ground cinnamon
1 stick unsalted butter, melted and slightly cooled
filling
3 8-ounce packages of cream cheese, softened
1 1/4 cups sugar
1 teaspoon vanilla bean paste or vanilla extract
1 heaping teaspoon ground cinnamon
1/2 teaspoon pumpkin pie spice
1/4 teaspoon nutmeg (freshly grated, if possible)
1/8 teaspoon ground cloves
1 15-ounce can pure pumpkin
4 large eggs
3 tablespoons all-purpose flour (or whole wheat white flour)
frosting
1 stick unsalted butter, softened
1/2 teaspoon vanilla bean paste or extract
2 teaspoons chai spice
1 cup powdered sugar
1 tablespoon milk (or more as needed; I use 1% but you can use anything except skim)
equipment
springform pan
stand mixer
large roasting pan (for a water bath, to prevent cracks)
Directions:
Heat oven to 300 degrees. Grease or spray a 9-inch springform pan. (10-inch is okay too!)
Make the crust:
In a medium bowl, whisk together the crumbs, sugar, and cinnamon until thoroughly mixed. Add melted butter and combine. Press into the pan, spreading evenly across the bottom and up the sides if desired. I use the bottom of a measuring cup for this, but any glass will do. Set aside.
Make the filling:
Using a stand mixer, beat the cream cheese sugar, vanilla, cinnamon, pumpkin pie spice, nutmeg, and cloves until smooth and fluffy. Beat in the pumpkin. Add eggs, one at a time, beating after each one on low to medium speed, just until blended. Add in the flour and beat on low speed until incorporated. Scrape the bowl with a spatula a few times to make sure everything is properly mixed.
Wrap the bottom of your springform pan (up to about 1/3 of its height) in foil to prevent leaks, then place into a water bath. (I use a large roasting pan, then put the springform pan in there, and add water slowly until the water level is about a 1/4 – 1/2 of its height.)
Pour the batter into the crust as evenly as possible. Use a spatula to spread, if needed.
Bake at 300 degrees for 1 to 1 1/2 hours or as needed. (The timing varies a lot based on your oven.) To see if it's done, tap the edge of the pan with a wooden spoon until the cake is just jiggling a bit in the middle, but not at the edges.
Remove from water bath. Cool on a wire rack for at least an hour, then move to the fridge. Wrap and chill overnight—and be careful during the wrapping process! I once ruined my perfect, crack-free cheesecake top by dragging some dangling plastic wrap across it.
Make the frosting:
In a stand mixer, beat the butter until creamy. Add the vanilla and chai spice and beat again. Add the powdered sugar incrementally, beating on medium speed. If the frosting seems too thick, add the milk. You can use more if needed, but I've found a tablespoon is usually just right.
Take the ring off the springform pan, running a knife around the edges first if it looks like the cake is sticking. (Mine didn't.)
Pipe little swirls around the edges; it doesn't really matter what tip you use, but you want the frosting just around the edges, so the flavor doesn't overwhelm. You can also put a large circle in the middle if you like. Get creative! If you have other edible decorations, go for it; one year I used little pumpkins and leaves made out of sugar that made it extra pretty.
Final tip: If you can't find chai spice, you can make it yourself. The internet is full of suggestions.