When you're from a large city, and have lived there your whole life, it's hard to give tips to tourists on fun and interesting places to go, as it's all old hat to you. For instance, if you're from Chicago like me…
The big landmarks
Sears Tower (yes, Sears, as a Chicagoan won't call it by any other name no matter who buys it) was probably experienced on a school trip, or at least, something you got to see almost daily. And if it's in your backyard, so to speak, it's not necessarily on the highest list of priorities. It's special, but doesn't require your immediate attention.
Navy Pier at this point is just an overcrowded tourist trap to Chicagoans. You go on the Ferris wheel once, you're good until a friend or relative comes to visit and demands you take them to it. Push your way through the crowds on July 4th for the fireworks once, and you're good for life. Seeing a movie in IMAX is worth the trek, though.
Buckingham Fountain. The Signature Room at the Hancock. Shopping on the Mag Mile. The Gold Coast. Any number of museums. Don't forget a thick slice of deep dish pizza, I guess.
Those are the things that a Chicagoan will tell people who've never been here to do. Because for them, it is a lovely experience—something new and fresh. Something that simply has to be seen and experienced.
Insider tips…
But if you've been here forever…something new, something hidden, would definitely be more appealing. For instance: the Chicago Gangster Tour, or visiting the only bona fide castle in the Midwest. But if you wanna chill with a new drink, try a Wild Blossom Meadery.
That's right, not a brewery or a bar, a MEADERY. I didn't even know that was a thing until recently and chances are, you didn't, either. Dating back to 7BCE in China, mead is made by putting honey through a fermenting process with yeast, fruit, and sometimes rice, creating a unique type of alcohol that is akin to wine, but that ultimately stands apart from other spirits with its sweet taste.
I've heard it mentioned in period plays, or mythical films, but never knew what it was, exactly. So when a friend invited me to go Wild Blossom Meadery in Beverly Hills Chicago (the original Beverly Hills for which the West Coast version is modeled after; no joke), I was intrigued.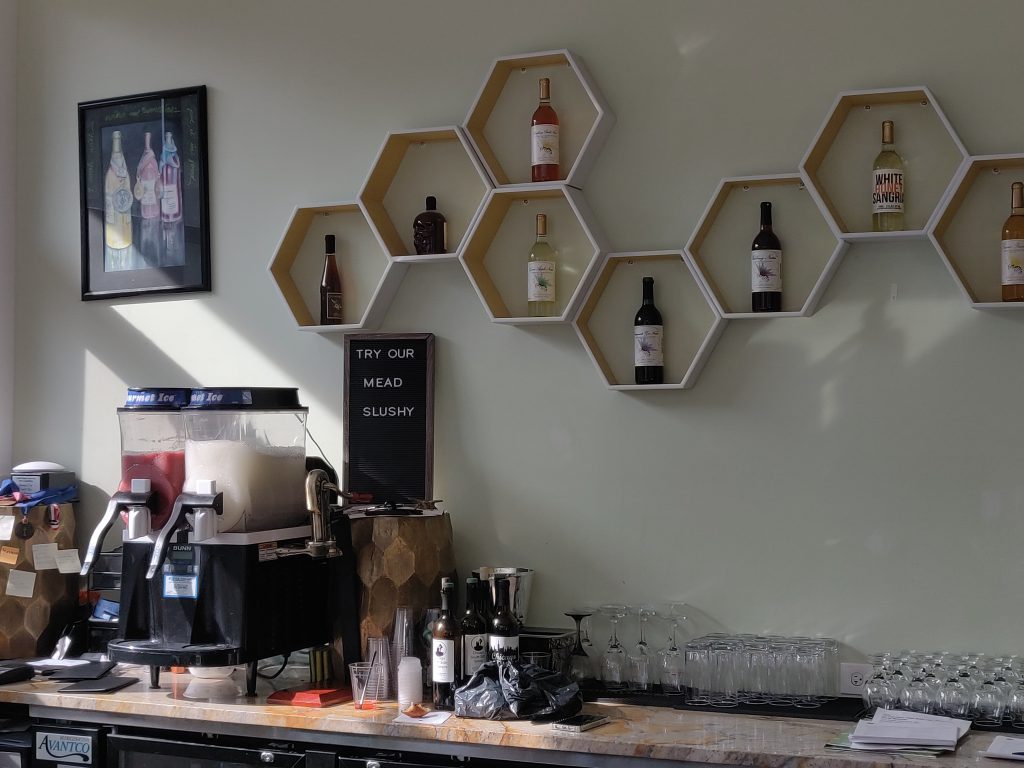 The space is open and bright, kind of like a new age art museum. The walls have original pieces (one of the artists was actually our waitress), and the main floor is adorned with high boys, offering a nice flow to the space.
The meadery consists of a variety of meads, cocktails, and even mead icees. Excluding the sometimes-available charcuterie plates for $17, Wild Blossom Meadery is a BYOM – bring your own meal. My friend and I ordered burgers, then sipped on mead flights as we waited for our Doordash delivery.
In the back of the bar is an open space patio for patrons. Full of flowers, honeybees took leisurely sips of water at a fountain full of koi fish. Indoors or outdoors, a refreshing and chill experience is certain to be had at Wild Blossom, a pleasant discovery on the quiet South Side of the city.
For more information, visit https://www.wildblossommeadery.com/