If you've ever investigated ways to decorate your home, you've probably heard about using Feng Shui to optimize space and create the perfect "flow."
A Chinese philosophy that is thousands of years old, Feng Shui comes from the concept of arranging your living space in a way to improve the "chi," or energy, of the home. Chi is thought to affect everything in your life, from finances, to relationships, to your own luck and happiness. The basis of this flow comes from five Feng Shui elements: wood, fire, metal, water and earth.
Each element brings different benefits to the home, and incorporating them in various ways can help improve a house's energy and create a peaceful space.
Understanding what that energy means and figuring out how to use it might seem complicated, or maybe you're worried about the potential cost of buying all kinds of extras, or of having to get a Feng Shui expert to come in and re-do the whole house! Luckily, there are several things you can do on your own to increase the good Feng Shui in your home, and none of them are especially difficult or expensive.
Rearrange existing furniture
Doorways are considered the entry portal for chi energy. In order to create space for chi to flow freely throughout your home, it's important to make sure the furniture in your home doesn't block it.
Your sofa should always be open toward the front entry of your home, with the back of it against a wall to promote safe energy, and living room seating in general should be arranged so that the front entryway is visible. In the bedroom, you'll also want to make sure the doorway is visible from the bed, preferably at a diagonal angle. Your bed should be placed so that there is space on each side of it, to make it open for love and relationships, and putting up a headboard will encourage stability and peace.
Get a water feature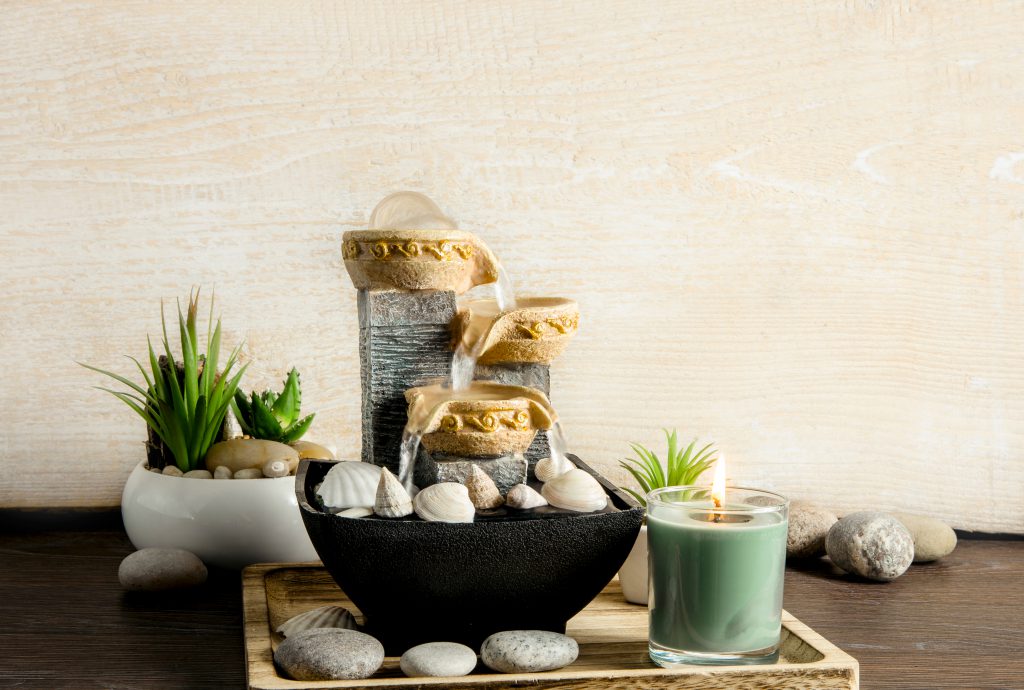 The water element is one of the most important in Feng Shui, as it represents prosperity and wealth. A small fountain placed in the East, North, or Southeast areas of your house, or to the left of the inside of the front entryway, is supposed to bring good chi energy for income and abundance. The fountain should be kept clean and running, with water facing toward the interior of the house. Never place a fountain under a stairwell, as it is considered unlucky, or in the bedroom where it is thought to "douse" the flames of love.
Add plants
The green energy of plants helps build the chi of the wood element in your house, bringing good luck along with cleansing oxygenation and life energy. Wood element features do best in the south, southeast, and eastern parts of the house, in areas where they can get a lot of natural light. Popular plants for good Feng Shui include lucky bamboo, money trees, and snake plants, as well as any plants with rounded leaves. Dead or dying greenery creates negative energy, so make sure to remove any plants from the house that don't flourish.
Try some color
Adding color can be an affordable and easy way to incorporate the elements of Feng Shui into your home. Incorporate a few bright throw pillows in fire element colors of orange or red to bring strength and power to a space, or put an earth toned rug in your bedroom to facilitate grounding and connection. Paint a wall in your office a pastel shade to stimulate creativity, or add some black accents, which represents the water element and is said to bring money. The color blue is also an expression of the water element, generating feelings of relaxation and healing.
Declutter
It's difficult to maintain good energy in your house if you're surrounded by clutter. Keep your space tidy, especially around your front entryway, where chi energy flows into the home, and regularly purge your house of unneeded or unused items.
Use a shoe rack by the front door so you don't get a jumble of shoes, as well as shelving or coat racks to keep things organized and neat. Making sure that your house is clutter-free and orderly allows chi to flow easily throughout, creating good energy, peacefulness and the sense that your home is truly a haven.