Perhaps it was because women were coming out of the kitchen and going to work in the 1970s that there was a variety of products sold at the grocery store that were touted as "easy to make" in the 1970s.
Our parents, just starting in life as parents, found meals in a can, a bag or a box were not only sold in stores but features of cookbooks – remember the Betty Crocker recipe card library that came in a box?
Here are some meals we ate in the 1970s that were served proudly yet make us extra thankful for the farm-to-table, clean eating 2020s.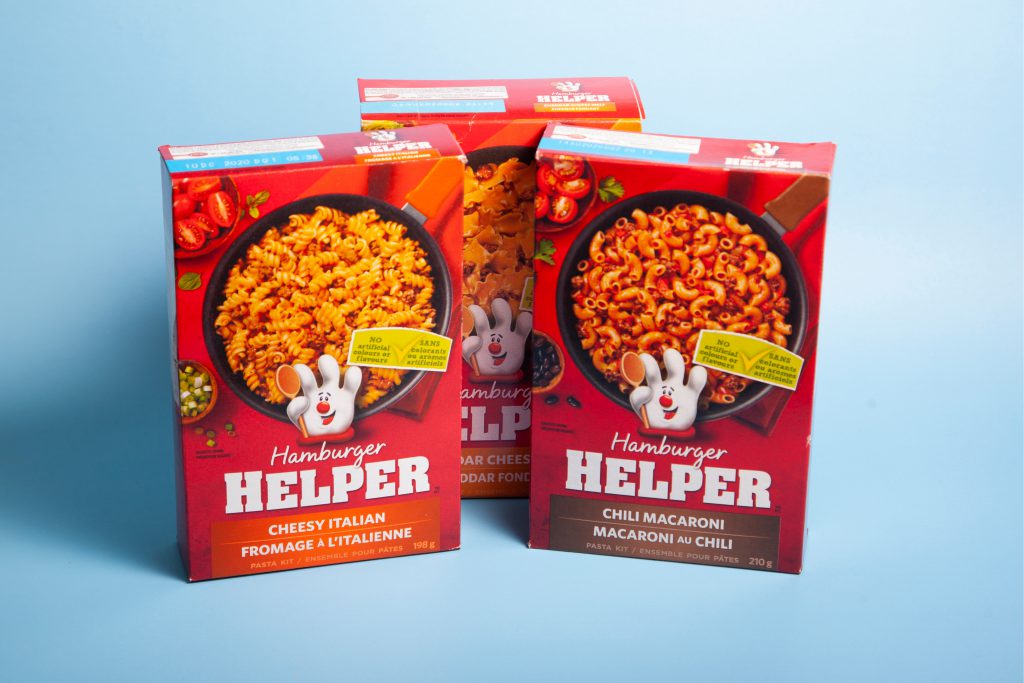 Hamburger Helper
Can you believe this is still available at the grocery store? How often did your mom whip together a meal of ground beef and Hamburger Helpful for a quick and easy "casserole?" The special meal helper was introduced in 1971 by Betty Crocker and we were all eating it by 1972. I am pretty sure I never had it again after 1979.
S.O.S. on toast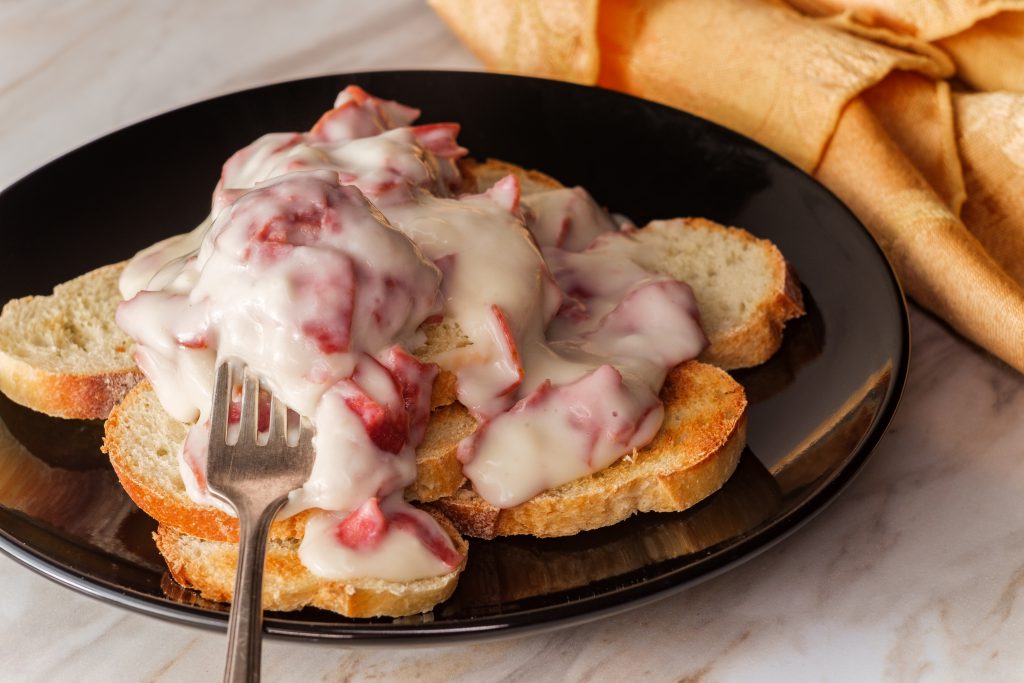 I blame this one on the Vietnam War. My vet father thought it would be great to introduce us to the food he ate in the Army — even when the name clearly defines how terrible the food is. Using dried ground beef with a gravy of flour, milk and butter and pouring it over white bread toast, my dad made it on nights my mom wasn't home. And then had us watching M.A.S.H.
Ambrosia salad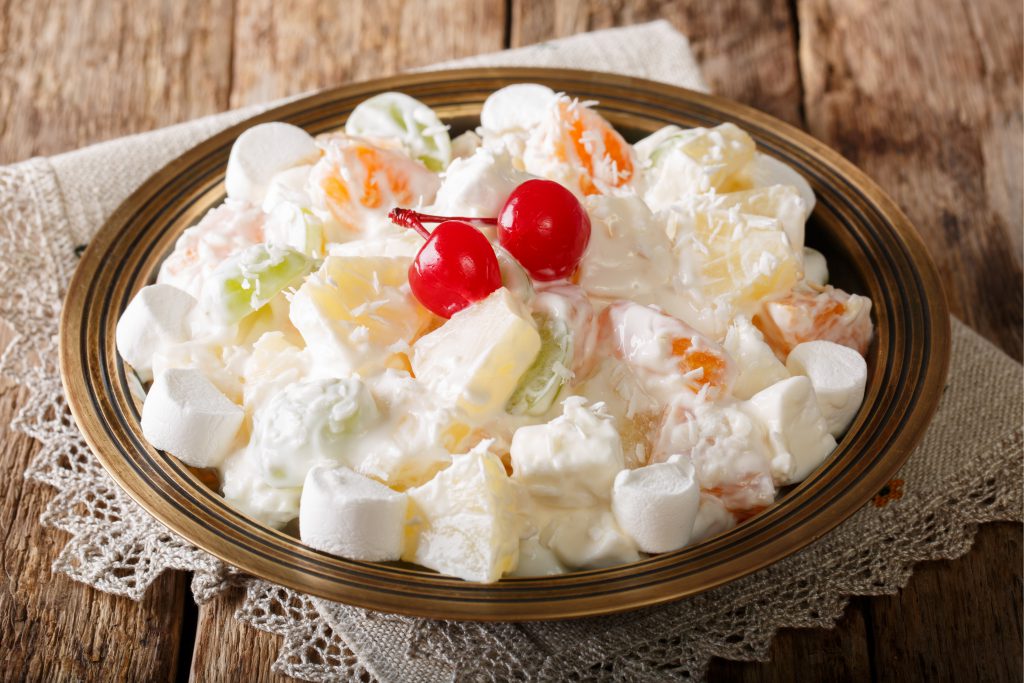 This salad that was popular at your neighborhood block party isn't really a salad. Instead, it mixed marshmallows, pineapple, mandarin oranges, miniature marshmallows… and sour cream? Why??? (The better versions subbed sour cream for Cool Whip.)
Weird Jell-O molds
Having a gelatin dessert was almost a guarantee when it came to sweets after a meal. For some reason, Betty Crocker featured a wide variety of Jell-O and whipped cream desserts in cake pan molds and a bizarre selection of fruits were added to see who could come up with the weirdest combination. We didn't complain; they weren't horrible to eat – but honestly, thank goodness that trend is long gone.
Spaghetti-O and Jell-O
Taking it one step further was taking canning spaghetti and pairing it with gelatin. There was nothing wrong with eating spaghetti from a can or Jell-O but when our parents decided to follow the recipe that combined the two into a mold with boiled hot dogs, they crossed a line. Am I the only one who was served this as a child?
Aspic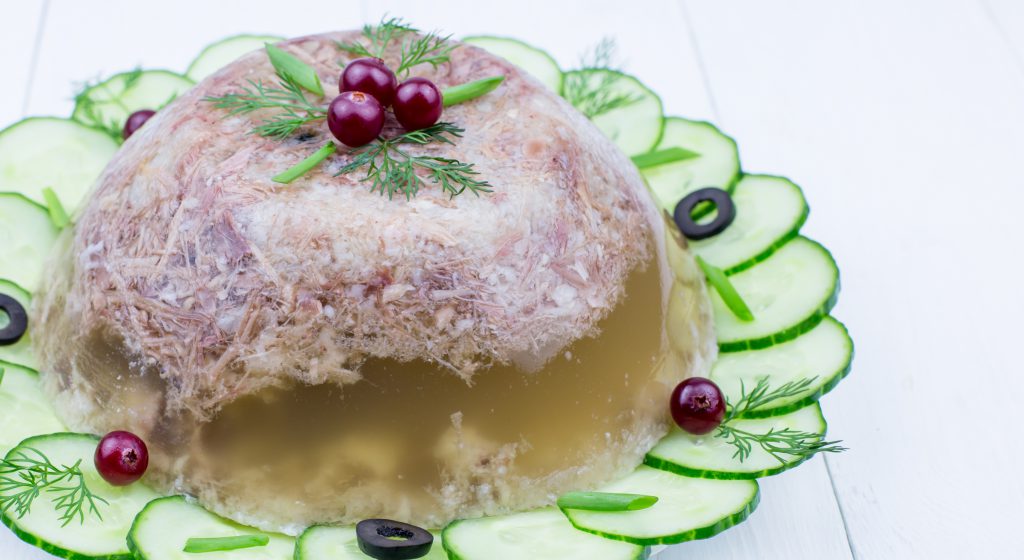 Why stop with spaghetti? Our parents also put meats, vegetables and even fish into gelatin and served it as a molded concoction. Were our parents thinking we had reached the future of food or were they simply taught by their own parents to make "aspic?" Even as I write this I am disgusted.
Quiche
While quiche is still around there was a mad run on quiche recipes in the 70s. I remember my mom reading a book called "Real Men Don't Eat Quiche" that came out in 1982 bemoaning men becoming too feminine by being served quiche for dinner throughout the 70s. All I remember is my mother cooking me far too many meals in an egg pie.
Chuck Wagon Dinners
Like Hamburger Helper, these pasta/sauce-in-a-bag meals just required ground beef and voila! A dinner the cowboys would have eaten on in the west. The thing is, the cowboys may have had to rely on meals like that because they were cooking over an open fire and nowhere near a kitchen. Our parents were just lazy.
Goulash
Hungarian goulash is a hearty stew of meat and vegetables with paprika and other spices but in the 70s came an American version. Simply mix ground beef (what was with all the ground beef?!), elbow macaroni, kidney beans and tomato juice and they called it goulash. Perhaps the American version of "peasant" food?
Chicken a la King
I suppose giving it a French-sounding name made this sound fancy but basically, it combined Campbell's Cream of Mushroom Soup with chicken over rice or noodles.
Steak-umm
Despite so many meals around ground beef, Steak-umm came out in 1975 to provide the thinnest cuts of frozen meat that could be cooked within minutes and used for sandwiches or as meat substitutes in other meals. It was the modern-day Spam for beef. It's still sold today, although they hype it up to be more for a Philly Cheesesteak meal.