As if helping your high school students plan for college wasn't stressful enough, the global health pandemic has added a new wrinkle, albeit a very large one, to the college application process.
The College Board just announced it is canceling the May SAT following a previous cancellation of the March SAT. AP exams this spring are up in the air, but it is sharing information and trying its best to accommodate all students. You can check for updates here.
Everyone is in the Same Boat
There is no reason to become too worried about this, because one of the critical things you need to remember is all students are in the same boat. Because this is the traditional time for high school juniors worldwide to take the tests, most students will not have scores to add to their applications either.
"There is not a college or university out there who is not currently putting together a plan to deal with a huge number of potential applicants who have no SAT/ACT scores who might not have been able to sit their AP exams, or who had to remote school for four or more months," says Dr. Lauren Steed, an independent education consultant.
Free Support
In order to help students at home because of the virus (which is most students right now) the college board and Khan Academy are providing free resources online to support students. This may offer an excellent opportunity for overwhelmed students who didn't have time previously to prepare for the exam.
The Tests Aren't Everything
"Statistics show that the strongest predictor of your college success is your work in high school, not your test scores," Dr. Steed reassures.
Dr. Grace Cheng Dodge, Former Director of Admission, Wellesley College and Former Associate Director of Admissions at Harvard College agrees. "Now is the time to make the point that admissions is so much more than grades and scores."
"If colleges go test optional now, people should believe them," Dr. Dodge says.
A More Even Playing Field
In terms of making a decision on colleges, most rising seniors will probably have to do it without campus visits this cycle, as most colleges and universities have shut their doors. The good news is most are offering rather complete virtual tours, and for those who don't have the resources to have made a number of college visits, they are now on an even playing field with everyone else.
Dr. Steed offered some tips for those who can't visit an institution they are interested in (which is nearly everyone right now). "If you can't visit, don't just watch the website tour video, watch videos produced by real students on campus. Get an inside peek at the dining hall, and look at the other students in the background. What are they doing? Do you think you'd be comfortable, challenged, excited to be there?"
For Seniors and IB Students
As it stands now, it looks like students in IB programs will most likely not be able to sit for their culminating exams. Do not worry too much about this. According to Dr. Dodge, "Colleges have always taken predicted IB scores, so that should continue if schools can provide them."
For high school seniors who are stressed or disappointed they can't take their final AP or IB exams, Dr. Steed recommends reflecting on what students' goals in high school were:
"Whether you sit for the test on time, at some point in the future or never at all, that learning and the struggle to master it all has formed you into someone who can accomplish big tasks and master difficult material. That is the goal of your high school education and that is what has been achieved in you."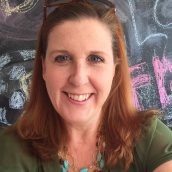 Laura Ellsworth
Laura has been writing and editing for more than 25 years, a fact which more than a source of pride, sends her running to the wrinkle cream aisle of CVS. She has worked for CNN, CNBC, Bloomberg, The Economist Intelligence Unit, and CBS radio. She has three children, and you will either find her thoroughly enjoying their company or yelling at them to clean up after themselves and turn off the lights.