The Olympics may have everyone focused on sports right now, but there is another issue that is popping up from all directions in the female sports world: the uniforms. You would think in this day and age people would be focused on actual competition, but that might not be possible for the actual players in some sports, because the rules around their uniforms make it less comfortable for them to do their jobs.
What am I talking about? Well, let's start with sand in places nobody wants it.
The Norwegian women's beach handball team made worldwide news when it was fined 1,500 Euros ($1700) each by the European Handball Federation for not wearing the required uniform: bikini bottoms "with a close fit and cut on an upward angle". Seriously? It's not like their protest had them donning parkas etc. the team opted to wear lycra shorts that came down the thigh (men are allowed to wear shorts) and bikini tops that were basically cut like your average sports bra.
Really, guys?
Not surprisingly, the ruling sparked global public outrage including this high profile Tweet from Pink offering to pay the ladies' fines.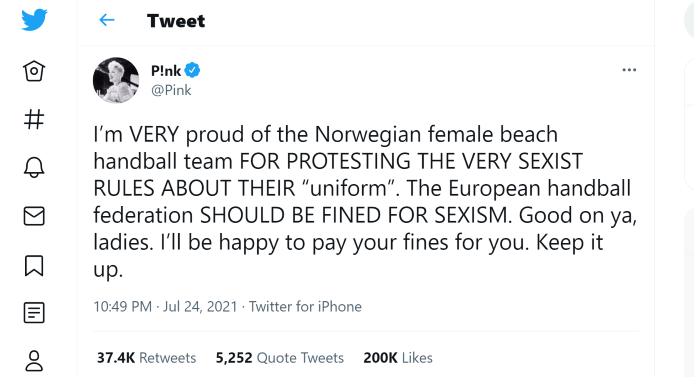 This isn't a new debate. Remember the uproar when Serena Williams wore a catsuit to the 2018 French Open after having a baby? She also experienced widespread support, while the whole debacle lifted her to a new status for women fighting for their right to wear what they want, when they want, without criticism.
Which brings us to the 2020 (well, 2021) Olympics.
The German gymnasts decided to don full-length unitards as their team uniform to take a stand for "freedom of choice" in what women wear in competitive sports. At least the Olympics committee had the good sense not to fight the decision, but a few key male figures (who I will not give any extra attention to here) couldn't stop themselves from the usual misogynistic nonsense that comes out when a woman stands up for herself.
That's not the only controversy swirling around women athletes in the Olympics this year either. Several women were upset that rules and regulations were forcing them to make a choice between breastfeeding their babies and competing.
Again, really guys?
It's baffling in this day and age that people aren't just using common sense and acknowledging that sport is about competing in an athletic competition and winning. Why on earth would it matter what either sex wore if they are succeeding in competition? I mean, yes, you should be on board with your team and represent it or your country as a whole, but that's about it.