As a yoga teacher and, now, full-time remote worker, I take yoga leggings extremely seriously. Anyone who has sat through a hot yoga class in poorly-fitting leggings knows that the pair can make or break your practice that day. But, perhaps the hallmark of good leggings is how they hold up after a few washes and their ability to hold their shape after a few months. Any piling, stretching or tearing isn't only a cause for grief, but it's especially irritating considering the price of trendy leggings.
When I shop for leggings, I want them to be cute, obviously, but I also want to be able to breathe without having to use a belt to keep them up in the next year. "Is that too much to ask?" I've wondered on many occasions. With so many varieties to choose from, all boasting the sleek, sexy fit, it's hard to discern where you want to put your money. But, if you're a heated-yoga connoisseur or just need a pair that won't let you down while you work, Beyond Yoga makes a great pair of leggings to see you through your days.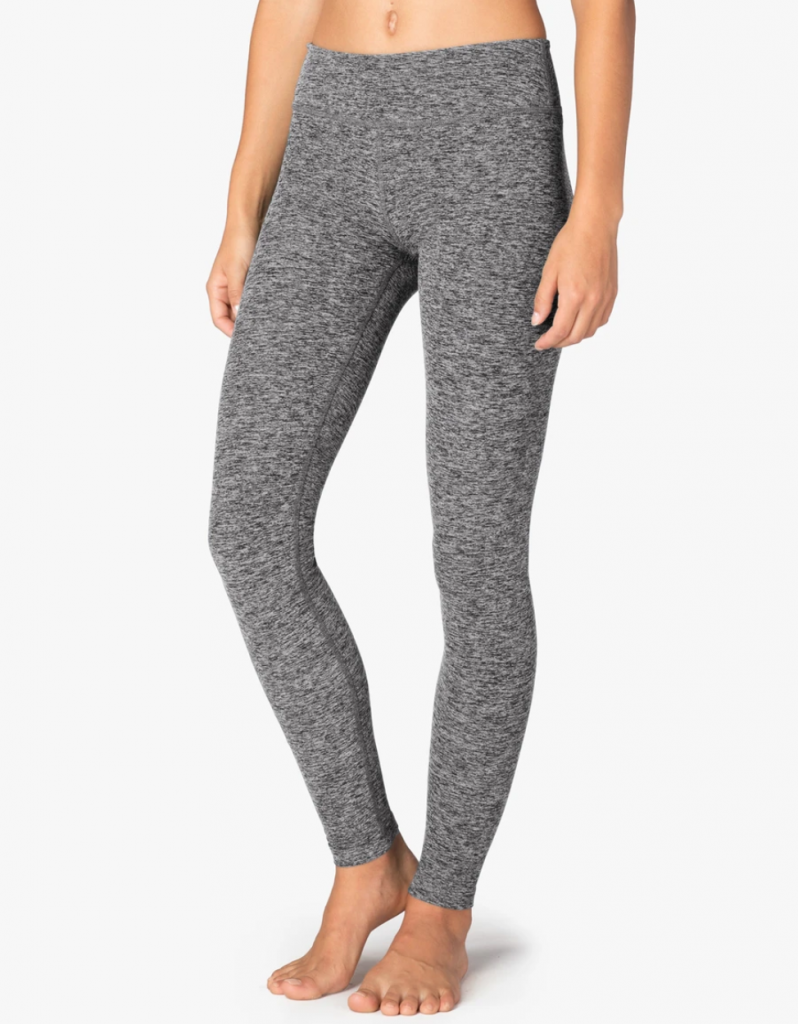 While modern sweat-wicking technology has left many popular leggings bereft of any softness whatsoever, this brand makes their Spacedye option almost feel like pajama pants. Soft and supple, Beyond Yoga Spacedye leggings offer sweatpant-like comfort with the classic athleisure style. They have maintained their shape better than my other leggings—just make sure to wash in a cold-water cycle with gentle detergent, and hang to dry. I would buy a size down since they do stretch slightly after a while, but I've found that they fit me perfectly even then.
On top of the softness and shape, they come in really cute colors. My first pair was a soft periwinkle that brightens up my cold Wisconsin winters and matches perfectly with my other outfits. Plus, they're incredibly flattering in their low-rise and high-waisted options. I usually wear their Spacedye slim racerback tank as my bra—in fact, I've forsaken my stash of expensive bras in lieu of this garment. I can breathe, move and layer these perfectly. With the same softness, the Spacedye tank moves with my body and absorbs sweat when I need it to.
Beyond Yoga offers other types of leggings as well with more sweat-wicking abilities. I've worn my Spacedyes to many hot yoga classes and, while it took some getting used to, I still loved the softness of the pair. If you're looking for something tighter to use during high-intensity workouts, the brand has other fits and materials to choose from. But, if you're looking for your at-home-workout to picking-the-kids-up pair, you can't go wrong with the Spacedyes.
Check out the colors that you're drawn to and keep an eye out for seasonal hues. I've found some pink options that I get compliments on every time I wear them. Besides on their website, you can also find Beyond Yoga at retailers like Nordstrom, Nordstrom Rack and REI. You can often find good deals to get your new pair for less, too!