When Lorelai Gilmore and her daughter Rory debuted as The Gilmore Girls on the WB in 2000, we instantly fell in love. Not only with the witty mother-daughter duo but the picturesque Stars Hollow, Connecticut, where Lorelai and Roy were often spotted walking in cozy sweaters as fall foliage burst with color around them.
There is something about that small-town New England charm that beckons us – practically every Hallmark holiday movie has a similar setting. We want to be surrounded by those colors and front porches and white picket fences decorated with pumpkins and garland as we sip on our hot cocoa to keep warm while wearing fingerless hand-knit gloves. Here's where you can find these idyllic settings which will make you feel as if you were on the set of The Gilmore Girls. Be sure to bring your cameras because these places scream "Post this on Instagram!"
Population: 3,578
When it comes to walking in the same footsteps of Lorelai and Rory, begin in Washington, Connecticut, the town that inspired Stars Hollow. It's not the only pretty town surrounded by trees and tucked away from city life in Connecticut but this Litchfield County town is filled with homes dating back to the Colonial era. Rolling hills, river valleys, a beautiful lake and a charming Main Street can be found just 80 miles north of New York.
Scituate, Rhode Island (It has a great fall festival!)
Population: 10,329
The Ocean State may be more renowned for its waterfront towns but it is also home to heavily forested areas and an abundance of white church steeples jutting above the fall foliage. Just 15 miles west of Providence, Scituate has been a fixture since 1710. Every fall its seasonal festival turns the streets lined with historic buildings into a gathering place for artists with sidewalks lined with pumpkins and visitors sipping on mulled cider.
Population: 724
Nestled into the foothills of the Blue Ridge Mountains, if it's fall foliage you are seeking in the south, the North Georgia Mountains are it. Blairsville is an intimate mountain town full of whimsy and small-town charm. You can hike trails that lead to the Appalachian Trail, see beautiful waterfalls, and settle in at local mom-and-pop-run restaurants that will remind you of Luke's Diner, counter stools and nosy neighbors included.
Population: 3,249
Galena may not be Colonial but still has much history in its small-town setting. Since the 1800s, this town in northwest Illinois near the Iowa border was even good enough for Ulysses S. Grant and unlike much of the state's farmland is filled with trees and hills that will make you think you are in New England during the fireworks of color found in the fall. Plus, its Victorian roots are still evident in adorable historic homes.
Population: 8,286
If there ever was a rural area that could be uprooted and placed into a New England state, it is Bucks County, Pennsylvania, just outside of Philadelphia.
The county seat is surrounded by horse farms and idyllic Doylestown's intersection of Main and State Streets are where the townspeople gather to shop, dine and meet at arts festivals throughout the year. While the coffee they grab may not be from Luke's but instead a Starbucks that took over the Fountain House Historic Inn and Hotel on the converging corners, plan to say hello to everyone you know when you wait in line for a bagel from Bagel Barrel or dine outdoors on brick patios.
Population: 17,669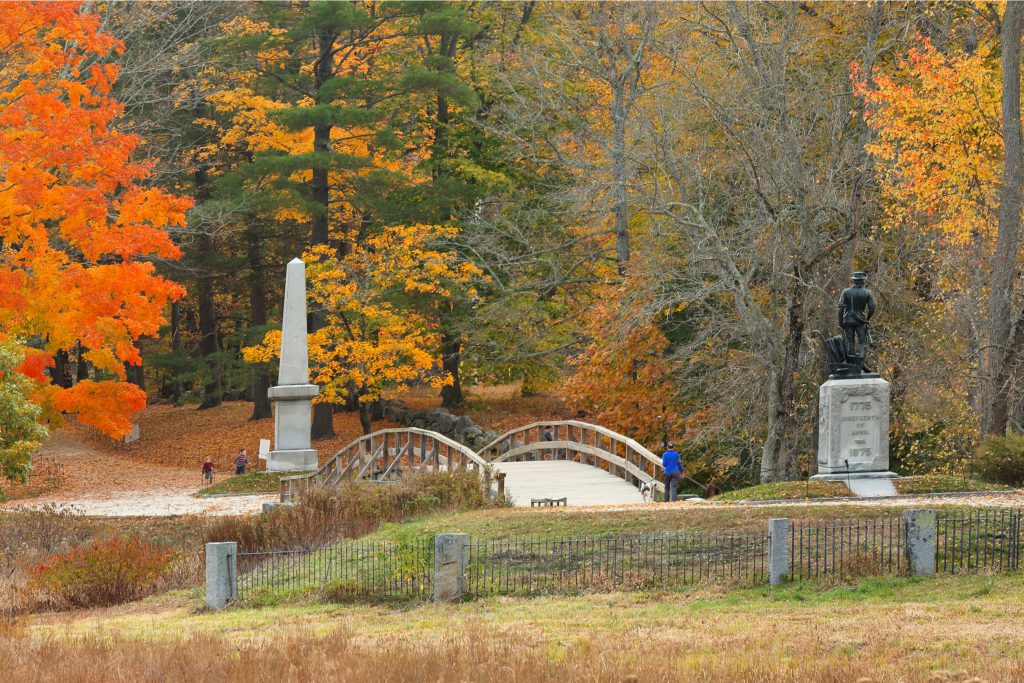 More famous for its prominence during the Revolutionary War, Concord is the quintessential New England town in Massachusetts. Of course, this town dates back to the Colonials and it is evident due to its active historical society working hard to preserve its historical allure.
This was home to Henry David Thoreau and his beloved Walden Pond and a visit during the fall months means many bewitching activities and attractions centered around quaint streets and outdoor areas.
Population: 1,715
When Hollywood wants to recreate New England but on the West Coast, they have done so in the low-key San Juan Islands. "Practical Magic" was filmed here on Whidbey Island and Coupeville is one of the oldest towns in Washington State. The Puget Sound area may be more akin to a rugged New England Coast not found in the Gilmore Girls but you will certainly find shops like Miss Patty's and inns that could serve as a double for the Dragonfly.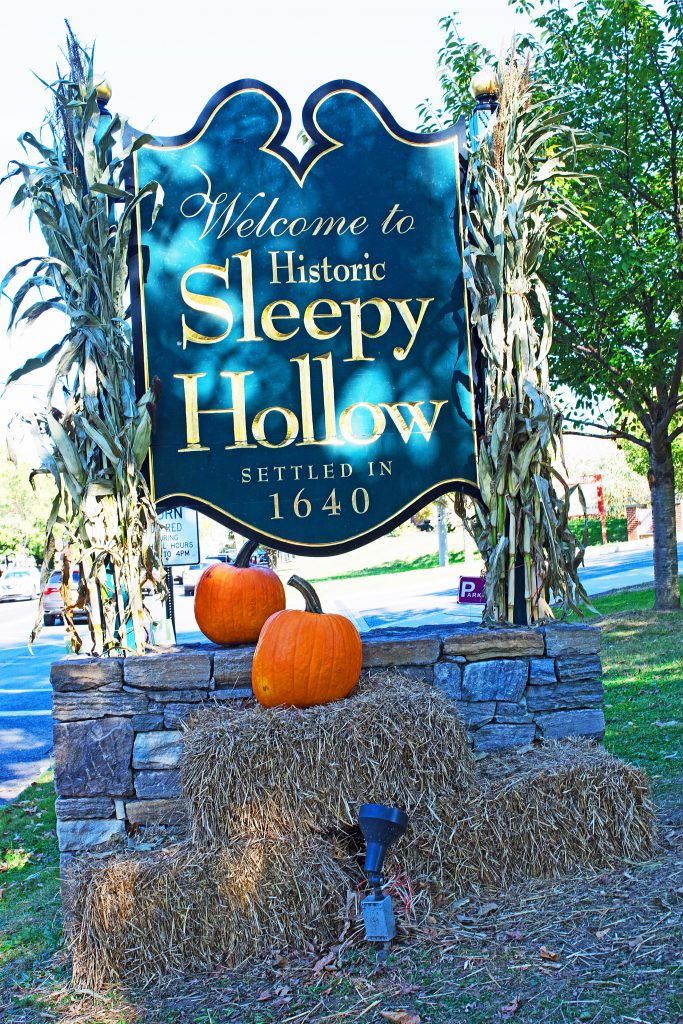 Population: 10,122
Washington Irving based his grim now-Halloween-iconic novel in this village along the Hudson River because this is where the famed author lived.
Just north of the Tappan Zee Bridge, the town goes all out in its fall activities and scores of people wander the Sleepy Hollow Cemetery, where Irving is buried alongside Colonial patriots, Rockefellers and Cargenies.
But this "sleepy" town is so much more than a Halloween jaunt. It's a collection of regular Joe's in flannels ala Luke and some of Manhattan's commuting elite (in other words a bit of Lorelai's parents, Richard and Emily) and you'll find places that cater to both crowds.
Population: 15,570
Another Midwestern gem is the quaint Northern Michigan town found on a bay near Lake Michigan. Sure, it has 180 miles of beaches (and Sleeping Bear Dunes) that wouldn't have been in the shot for the Gilmore ladies but its rugged, tree-strewn terrain and boutique-filled downtown could easily pass for Connecticut during your fall excursion.
Population: 47,096
Although Charlottesville is not a small town, in its heart it truly us. Found at the gateway to the gorgeous Shenandoah National Park, this beautiful area won the hearts of our Founding Fathers and served as home to Presidents Thomas Jefferson and James Monroe. A college town with quads that could easily pass as Rory's Chilton or Yale, stroll along the pedestrian Main Street mall, where shoppers and diners with their dogs say hello throughout the day.
Population: 14,330
You may not think California has much to offer for a fall New England-vibe but the small Marin County town of Mill Valley will surprise you. Just north of San Francisco and abutting John Muir's redwood forest is this valley community filled with artists, bungalows, and even the colors of fall. You'll find the heart of a tree-covered town decorated for the season with nary a beach in sight leaving you wondering if you really are on the West Coast.
Population: 2,686
As you stroll past the old mill that helped Clinton get its start, you'll discover a community of locally-owned shops, restaurants and inns that could easily be the backdrop for the residents of Stars Hollow. This town has a place in Revolutionary War times along with homes dating back to Colonial times. It also features beautifully restored Victorians and a flower-filled Main Street that transforms to something straight out of home décor magazines showcasing how to decorate for fall or the holidays – in other words, picturesque.